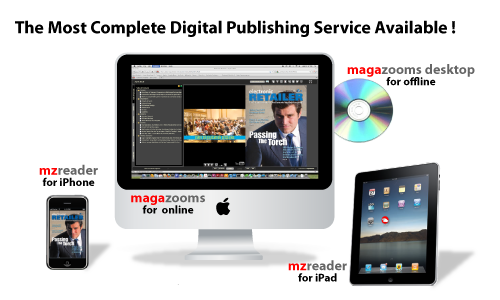 Magazooms, a SaaS (software as service online application we describe as PCMS (Publishing Content Management System), enables publishers to transform and manage their publication with integrated video, publish and search them online, and measure each in terms of performance with their audiences.
Magazooms Server is also delivered as a turnkey self-hosted solution for enterprise applications.
Publishers simply provide their publication or document as a PDF file and our service transforms them into an interactive format using the Magazooms Reader for users online , Magazooms Desktop for users offline , and MZReader for users with iPhone and other compatible devices. The original PDF is always available for print or to save, while the Magazooms interface offers a unqiue presentation with features that bring more value and utility to the publication.
Our production servers and online management tools make it easy for publishers to transform, release, control, manage, and track their publications without any additional software.
All publishers may integrate their publication(s) within their existing web site domain while Magazooms provides production, hosting, delivery, and tracking services.
Publishers have these features and services at their disposal.
 

Full Content Search
Print pages or save as PDF
Readers can share with their friends and family
Sell rotating Ads just for your digital edition
Personal Bookmarks
Click to add products to the shopping cart
Update or change pages between printings
Readership statistics, maps, and charts for analysis
Distribute on CD/DVD for reading offline
Control access - require reader validation (optional)
International Language Support - User Interface